FUQI Model
FQ777-124 Micro Pocket Quadcopter - Black (RTF)
UK Delivery: £2.99
1 in stock
  DETAILS:
The FQ777-124 Pocket Drone is ingenious in it's portability, the drone and the spare parts fits perfectly in to the transmitter's dedicated compartments. This way the transmitter has multiple functions, to control and to store the mini drone for ease of use, and also to be used as a charging station for the drone.
Unusually, this mini quad has a one-key return to home function! A simple click and the drone will fly back to your hand. Propeller guards are also supplied to prevent serious crash damage.
The drone is powered with a tiny 100mAh Li-Po battery. With an average charging time of 20 minutes this pocket drone recharges faster than other RC drones of similar weight, size and battery type. If you're looking for a fun, inexpensive and unique drone that's perfect for all experience levels, then look no further than the FQ777-124 Pocket Drone.
FEATURES:
3D flip
Headless mode
LED lights
One key return home
Can fly forward/backward, left/right/left side/right side, up/down
Can be charged with controller or USB charger
Charging time: about 20 minutes
Transmitter can be operated in Mode 1 or Mode 2
---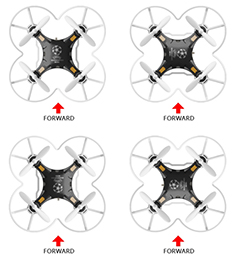 Headless Mode
The FQ777-124 Pocket Drone features a Headless flight mode making the Pocket Drone easy to fly for beginners and more experienced pilots.
---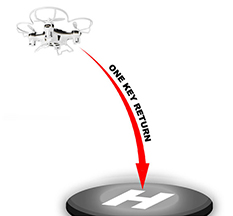 One Touch Return
The FQ777-124 Pocket Drone features a return to home function, with a simple click of a button the FQ777-124 will return home to your hand.
---
Transmitter Details
The FQ777-124 Pocket Drone Transmitter can be swapped between mode 1 and mode 2, a feature normally found on bigger more expensive drones.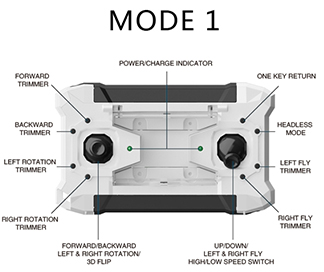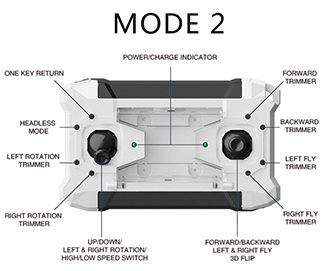 SPECIFICATIONS:
Channel: 4ch, 2.4GHz
Remote Control Distance: 50 Meters
Controller Size: 140mm x 85mm x 41mm
Battery For Transmitter: 4 x AA Battery (Not Included)
Gyro: 6 Axis
Battery for FQ777: 3.7V 100mAh 25C LiPo
Flight Time: 5mins
Width: 70mm
Height: 30mm
Length: 70mm
WHAT'S INCLUDED:
1 x FUQI FQ777 Pocket Drone
1 x Transmitter Handset
1 x USB Charge Cable
8 x Propeller
3 x Landing Skid
1 x LiPo Battery
1 x Instructions
Please note you will need 4 x AA Batteries for the transmitter.